Home Diffuser – Dew Drop Design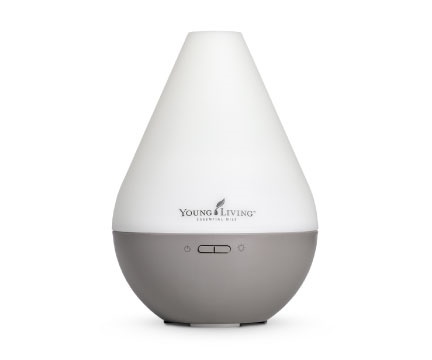 About the Product
Young Living's Dewdrop™ Diffuser functions as a humidifier, atomizer, and aroma diffuser in one simple-to-use product. Inspired by the purity and elegance of a drop of morning dew, the Dewdrop Diffuser's design reflects Young Living's dedication to providing high-quality essential oils. Its ultrasonic technology breaks any mixture of essential oils and water into millions of microparticles, disperses them into the air, and releases the constituents found in Young Living essential oils. Custom designed with up to four hours of continuous run diffusion, automatic shut-off, and ambient light control, Young Living's Dewdrop Diffuser can transform any space into a spa-like atmosphere. Transform your surroundings: The ultrasonic frequency generates waves at 1.7 million times per second, releasing essential oil molecules into the air to help create a relaxing, spa-like atmosphere in your home or office. Dimensions: 135 x 135 x 190mm The Dewdrop Diffuser comes with free 5-ml bottles of Tangerine and Peppermint essential oils. The free oils mentioned above are not included with diffusers that come in Premium Starter Kits.
Price
Retail: $83.88
Wholesale: $63.75
YL Product #: 5330
How to Use
1. Remove both outer and inner lids.
2. Add water until level reaches, but does not exceed, the red water fill line marker.
3. Add 5-8 drops of essential oil.
4. Replace both lids back onto the unit; align the groove on the outer lid to the notch on the base.
5. Plug the power adaptor into a power outlet.
6. Press the on/off button to switch on.
7. The unit should be producing mist and the LED light should be on.
Why pay retail?
Save up to 24% with Wholesale Pricing!
Did you know you could save up to a whopping 24% on your purchase by becoming a Young Living Member?
What does it mean to be a member? Well, it doesn't mean you are committing to purchase month after month after month. It doesn't mean you are now a salesperson with a quota. What a membership does mean is that you have the ability to purchase a great set of starter oils and you get to make all future purchases at a great discount! It also means that once you fall in love with Young Living products, like I did, you will have the option to tell others about them AND receive a commission check on their purchases!
Ready to sign up? Need to learn more? Click below! Want to just purchase retail for now? No problem! There's an option for that below too!