Aria Audio Cable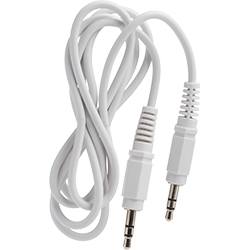 About the Product
The Aria Audio Cable is designed as a replacement audio cable for the Aria™ Ultrasonic Diffuser's built-in speakers, allowing you to plug in your own audio device and enjoy the music of your choice.
Price
Retail: $5.92
Wholesale: $4.50
YL Product #: 4543
How to Use
Plug one end of the audio cable into the Aria external input and the other end into the headphone jack of any external music player (MP3, MP4, CD, or DVD, smartphone, tablet, computer) to play music of your choice.

See the Aria Operation Manual for complete instructions.
Why pay retail?
Save up to 24% with Wholesale Pricing!
Did you know you could save up to a whopping 24% on your purchase by becoming a Young Living Member?
What does it mean to be a member? Well, it doesn't mean you are committing to purchase month after month after month. It doesn't mean you are now a salesperson with a quota. What a membership does mean is that you have the ability to purchase a great set of starter oils and you get to make all future purchases at a great discount! It also means that once you fall in love with Young Living products, like I did, you will have the option to tell others about them AND receive a commission check on their purchases!
Ready to sign up? Need to learn more? Click below! Want to just purchase retail for now? No problem! There's an option for that below too!